Cynthia Ruccia
Isn't that a pretty picture? Taken from this
wonderful New York Times article
, this photo speaks loudly about women's aspirations!! We have a state, New Hampshire, where women have risen to all of the highest political positions and it is beautiful!! And these women come from both parties too. And to hear them talk about it in the article, they like working together and forging consensus. Yes, that "C" word----the one that gets lost in today's political climate.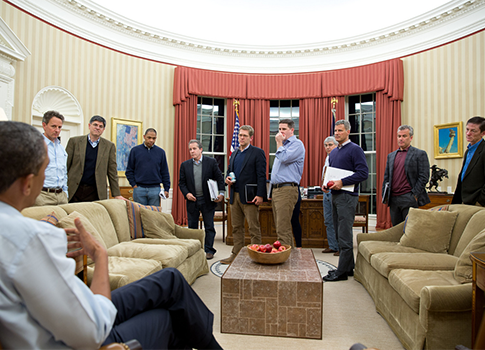 And what do we see in this picture? Well, we see a White House showing off its leadership team. What's wrong with this picture? It's, yawn, ALL GUYS once again. According to
this article in the Washington Free Beacon
, the Obama administration War on Women continues to escalate with few women in top positions, women being paid less than men STILL, and evidence that points to the fact that even on the Obama campaign the women were paid less per capita than the men. Now I understand that the Washington Free Beacon is a right-leaning publication and that they aren't going to write anything good about President Obama. However, as many on the left like to say, facts are stubborn things, and if the numbers show that the women were paid less and hold fewer positions, then the number aren't lying.
Fact is, it is still imperative that BOTH parties work harder to make sure that women aren't mere tokens. As Swanee Hunt stated in her
recent op-ed piece in the Boston Globe
, for the sake of our democracy, we must elect more women and appoint more women. For four years I've been railing about how women aren't making much progress here in the U.S. in terms of holding power. And people are startled to hear how little power women hold. However, there doesn't seem to be much of a groundswell to do anything about it.
Of course, an example could and should be set at the top, and President Obama's record has been disappointing. He's done some things, but he could have done much much more. Why not a gender neutral cabinet for starters? Why not equal pay for equal work at the White House? Why not? It's because people are giving him a pass. I've never seen anything like it since our teflon president Ronald Reagan.
We have a wonderful example in Iceland of what can happen when women run things in proportion to their numbers. You can read about it
here
,
here
,
here
, and
here
. In our own country, we have the long-serving
Senator Susan Collins of Maine being quoted on December 13, 2012
that if women were in charge that the fiscal cliff issues would have been solved and put to bed by now. Sure you can always give examples of women who are bitchy and nasty and who aren't cooperative. However, it is well known that women are more interested in consensus and less interested in who wins. If anything, women are more socialized than men to make sure everyone wins. Check the whole concept out on your favorite search engine and you will find lots of things to read on the subject.
When there are so many great examples of why we need to have women at the top, and at a time when our politics has devolved into a game of winner and loser, a game that many find depressing, why isn't there more call to elect and appoint more women???? I guess our country STILL isn't ready for that one yet.