Cynthia Ruccia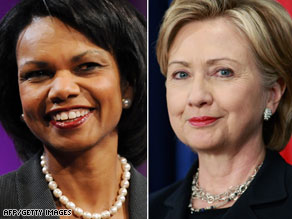 I know it may seem pathetic, but I just want one more chance to dream about what could be this election cycle. I understand that my dream is a long shot, but I'm dreaming it anyways. I'm a great believer in thinking and dreaming big and believing that anything is possible. I take it as part of the holy grail of being an American.
My wildest dream amounts to this: both parties nominating a female VP and that no matter what, history will be made. We will finally shatter that particular glass ceiling once and for all, and it will just be a matter of time before a woman is elected President. And when these things come to pass, there will be a domino effect. People will get used to the symbolism of seeing a woman in charge, and they will then grow comfortable with the idea of women running things, and so finally the dam will burst, and women will start running things in proportion to their numbers. And by having the genders power share, our country will have a chance to create a new golden age, and we can once again know that the ideals of our founding fathers will be heeded, and the compact of equality for all will be fulfilled.
This whole scenario starts with Mitt Romney nominating a woman VP for his ticket. Honestly as I've written,
the Republican bench is deep with outstanding women,
any one of whom would be a brilliant pick for his running mate. I'd be happy with any of them. However, my dream ticket would be for Romney to pick Condi Rice because of her foreign policy experience, her classiness, her ability to articulate very difficult concepts brilliantly, and because polling shows that with her on the ticket, Romney wins. No one could question whether she has the experience without looking like a sexist, racist fool. And I would love to see a VP debate with the other member of my dream team, Hillary Clinton.
But that's putting the cart before the horse. I believe that if Romney picks a woman, the numbers will move very favorably for him. And once that happens, the Obama team will panic and realize that they need to counter this maneuver by putting a woman on THEIR ticket. And the only woman to pick in that field would be Hillary Clinton.
Imagine that!!! Hillary and Condi debating, Hillary and Condi being attack dogs, Hillary and Condi pictured with the top of their respective tickets. If this comes to pass, THIS time when the daddies hold their little girls aloft to show them that they can dream of growing up to be anything they want to be, it won't be an empty wish. It will be REAL because a woman WILL become our next VP.
It all seems so obvious to me. And really, there's a possibility that it could happen. I know everyone says that both Condi and Hillary aren't interested. But everyone denies that they are interested----it's the proper thing to say. And of course
we have the Palin-effect naysayers
, those small thinkers who believe that we should never ever nominate a woman ever again since it didn't work out with Palin. Of course they sound ridiculous when they say that considering that they continually nominate men over and over again even when men lose. It's not a cogent enough reason for anyone to take too seriously when it gets right down to it.
So on a hot summer day laying in my hammock with a tall cool glass of lemonade, why not daydream about what could be? The window of opportunity is open for a little while longer.