Cynthia Ruccia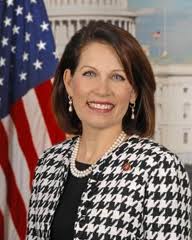 I am jumping up and down unable to contain the glee in my heart tonight having just learned that Michele Bachmann won the Iowa straw poll. And I noticed that not everyone is jumping up and down with me. "What are you thinking?" some of you are saying to me with a look of total disbelief on your faces. "Michele Bachmann?------C'mon Cynthia----have you lost your friggin' mind?"
Noooooooooooo, I have not lost my mind. I am absolutely thrilled that Bachmann won tonight, and you should be too. Now I'm asking those of you who don't understand my point of view to please give me the courtesy of hearing me out. If you can't hear me out then you must be happy that
the United States ranks #70 in the world in female representation in government.
You must also be thrilled that we
women hold 2.7% of the CEO positions in the Fortune 1000.
You are definitely bursting with pride that
we hold 24% of state legislative seats and only 6 governorships
,
that we hold 20% of senior management positions and that there are more companies than ever that have no women in senior management positions
. If those statistics make you happy, knock yourself out celebrating them.
But I know that whatever your political persuasion, women can't be happy about the current state of affairs. And yes we've come a long way since the 1950's, but we've not come nearly far enough judging from the above irrefutable facts. And let's face it, 1950 was 61 years ago-----it's not a fair comparison to say we should be happy that we're not where we were. We're not where we should be either!!!!
But let's get back to Michele Bachmann. there are those who say that she can't be supported because she's anti-woman. I disagree with that. She doesn't support the platform of the Democratic Party, but that doesn't make her anti-woman. The Democrats do NOT own women's politics in this country. In fact, the feminist platform of the Democratic Party has completely stalled out. In my piece
Women's Rights Are Held Hostage To Party Rhetoric
, I discuss how neither party can claim women's rights cred. While the left is saying that it is the fault of the right that their agenda hasn't progressed, that isn't entirely true. The women's agenda of the left hasn't passed because the men on the left who hold most of the power have hemmed and hawed with the agenda. They haven't made it a priority to really take the agenda up, and to take themselves off the hook, they blame it on the other side. Politics 101 my friends. As long as there aren't more women in power----on BOTH sides of the aisle---women's politics will continue to stall. Let's be clear---the Lily Ledbetter Bill that is always thrown in my face as proof of the ownership by the left of the women's agenda only passed because the Republican women in the Senate crossed over and voted for it.
There are those who like to quote Gloria Steinem who said there will always be women like Bachmann and Palin who sell out the women's movement.
I have tons of respect for Gloria Steinem. I appreciate her trailblazing in the 70's that broke through tons of barriers for women. Heck, she even held a fundraiser for me in New York City at Tavern on the Green during my 1996 run for Congress. But I also think that her rhetoric is outdated and that while her tactics were great in the 70's, those same tactics have become the reason why women's progress has stalled out. I mean, why would you keep talking on a phone attached to the wall when you can use a cell phone and talk wherever and whenever you want?
My real point here is that when women win these elections, we ALL win. The more women win and assume power, the more people get used to seeing women in power and the more routine it will become. And the more routine it becomes, the more women will win----women of all ideologies. The more women win, the more truthfully we can tell our daughters that they can be anything they want to be because they will see it for themselves. It won't be just a phantom dream and fable we pass on to them as it is now.
And women of differing ideologies will learn to work together.
Here in Ohio the female justices on our supreme court from opposing sides are finding out how when they work together they agree more than they thought they would.
Why couldn't this become a parable for how it will be when women hold 50% of elected positions?
So why should we be happy about Michele Bachmann's kickass victory in Iowa tonight? It's not about her positions on the issues. It's because she won!! It's because we get to see a female victorious where none have been before. Dance and rejoice!! And if you don't like her positions, fine!! Work to get more women elected who represent your views. Or better yet, run yourself. But when women win, we all win!!!!